5 DAY 4WD KAKADU/ KOOLPIN SAFARI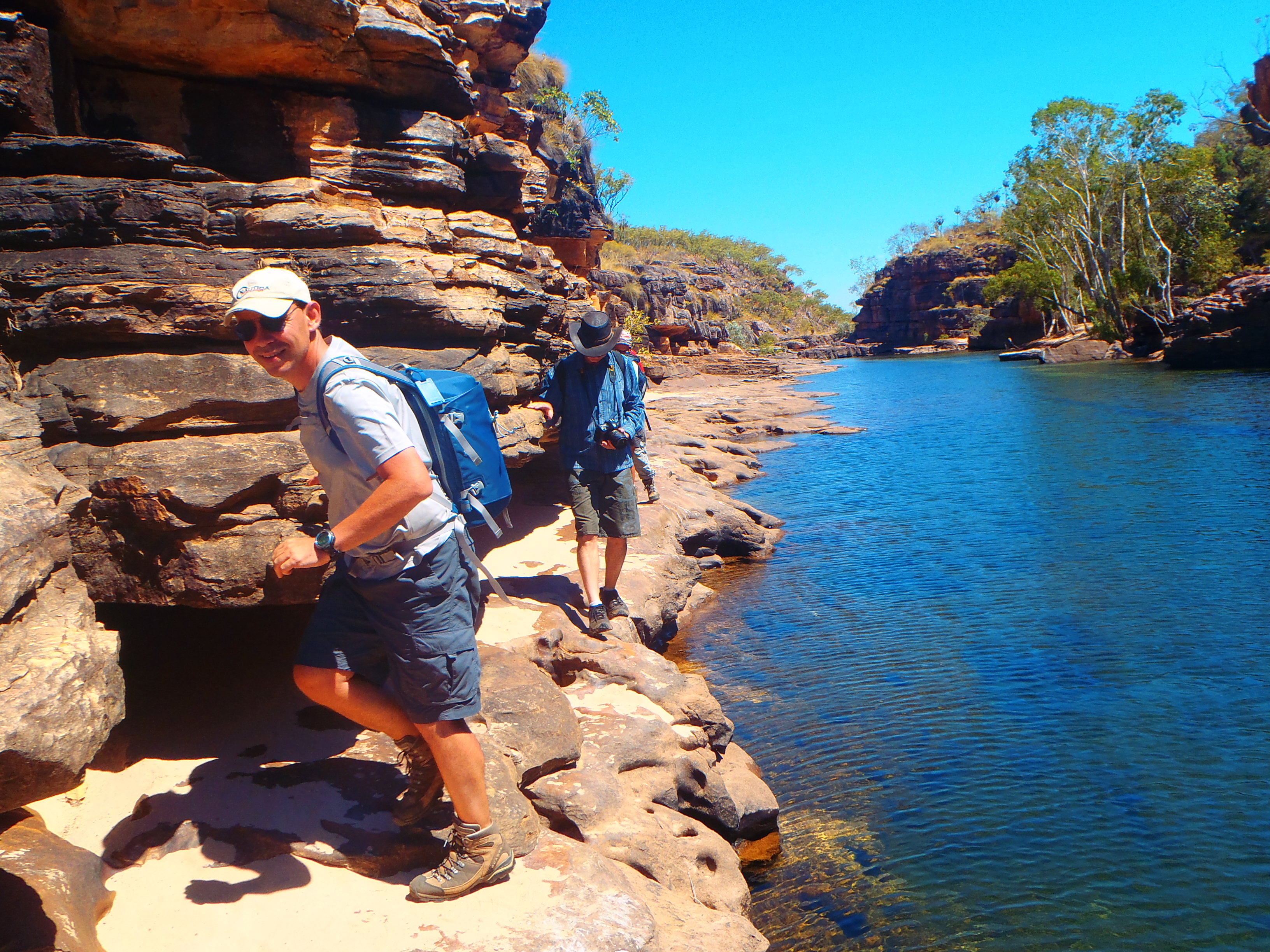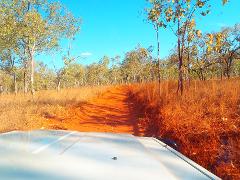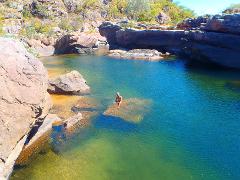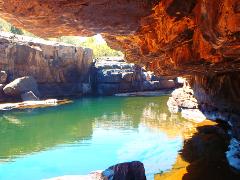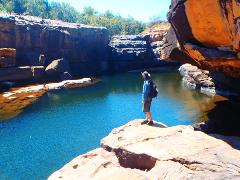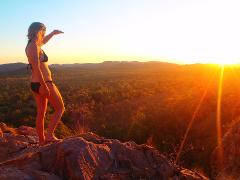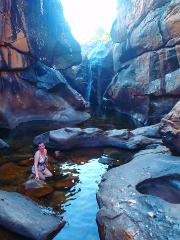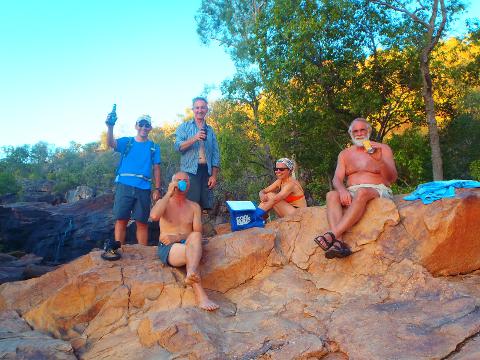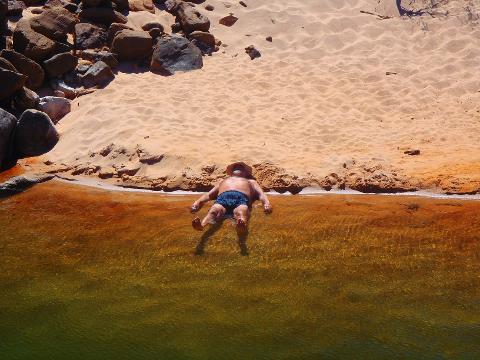 This tour is designed for the fit and active adventurer.
Traditionally this tour will have your more mature traveller who like fantastic hikes in small groups
Operates only June to September, departing each Tuesday.
Pick up from 06.30am in Darwin.
Max 9 passengers.
Day 1 – Darwin – Kakadu
Pick up from nominated accommodation at approximately 6.30am
Drive to Kakadu via the old Jim Jim Road stopping off at white lily billabong for a stretch and some morning tea.
Then its off to Gunlom Falls for a great hike to the top of the waterfall for great views and a swim in the refreshing pools. Don't forget to explore the sandybeach at the base of the falls that leads to a large plunge pool.
Tonight we camp at Gunlom by the waterfall, away from the crowds & under the stars.
Showers and toilets are available.
Fitness:2kms
Meals: Lunch & dinner
Day 2 – Kakadu/Koolpin Gorge
Today we spend the whole day exploring the magnificent Jarrangbarnmi (Koolpin Gorge), this is a special permit access area that is recognised for its cultural and environmental sensitivity
The name Jarrangbarnmi comes from the Jawoyn words jarrang meaning flood, or big water flow, and barn meaning rift or gap
Jarrangbarnmi was created by the Jawoyn creation ancestors. It is part of Buladjang country. Bula created this landscape and then went to live under the ground. Bolung (Rainbow Serpent) lives in plunge pools in this country. Both of these powerful creation ancestors can cause earthquakes, storms, floods and disease if disturbed
Koolpin Gorge is in the southern corner of Kakadu National Park, not far from Gunlom Falls
The walk up the gorge is a real wilderness walk and requires a good level of fitness with great rewards on arrival to some of the National Parks most spectacular rock pools, waterfalls and rock landscape.
This remote location is restricted to only 40 people per day and it home to a number of endemic species of fauna.
Return to our camp at Gunlom and tonight we enjoy a dinner cooked on the campfire.
Fitness: 8kms
Meals: Breakfast, lunch & dinner
Day 3 – Kakadu
This morning we drive north to Maguk (Barramundi Gorge) where we have the entire day to hike, explore and swim in beautiful swimming holes, avoiding the crowds.
A 4-wheel drive adventure takes us to our destination. Upon arrival we take a 1km walk through paperbark and monsoon forest then along a sandy and rocky creek to a small waterfall and that lead us to a beautiful clear plunge pool.
There are small interconnected pools among the rocks that flow into a small lake. The guide will share a few secret swimming holes here including a little secret passage under water connecting two pools.
Here we will also have lunch then a bit more exploring before we make our way further north to Jim Jim Falls.
Tonight we camp at our exclusive safari camp at Garnamarr, at the base of the escarpment.
Fitness: 3kms
Meals: Breakfast, lunch & dinner
Day 4– Kakadu
After breakfast we do some 4 Wheel driving to Twin Falls. From here we take the escarpment walk to the top of the falls for a swim in the crystal clear pools away from the crowds.
Then we'll find a shady spot by Jim Jim Creek for some lunch.
A short climb up Budjimi Lookout will reward you with spectacular views of the ancient Arnhemland escarpment.
After lunch, a 1km walk through monsoonal vine forest to the base of Jim Jim Falls for a relaxing afternoon swimming in the plunge pool and resting on the beach.
Tonight we camp at Mardugal, Showers and toilets available.
Tonight we replenish ourselves with the Great Aussie BBQ
Fitness: 5kms
Meals: Breakfast, lunch & dinner
Day 5 – Kakadu
This morning we visit Nourlangie Rock, an ancient aboriginal occupational and art site, here we can explore these sites before walking up to Gunwhardewharde lookout for an exceptional view of the region including Arnhemland.
We then stop off to visit Bowali information centre.
As we make are way back to Darwin we will call in to the Mamakala wetlands to see the incredible bird life.
We finish our Kakadu tour with a wildlife cruise on the spectacular Corroborree Billabong. This is a great opportunity to get fantastic photos of the local wildlife.
Head back to Darwin, returning at approximately 5.30pm.
Fitness: 3kms
Meals: Breakfast & lunch
Itinerary may be done in reverse at Guides discretion.
All itineraries are subject to change without notice due to seasonal and extreme weather conditions, national park road or attraction closures and cultural commitments from Traditional owners. All tours must be reconfirmed 24 hrs prior to travel.